Farideh Cadot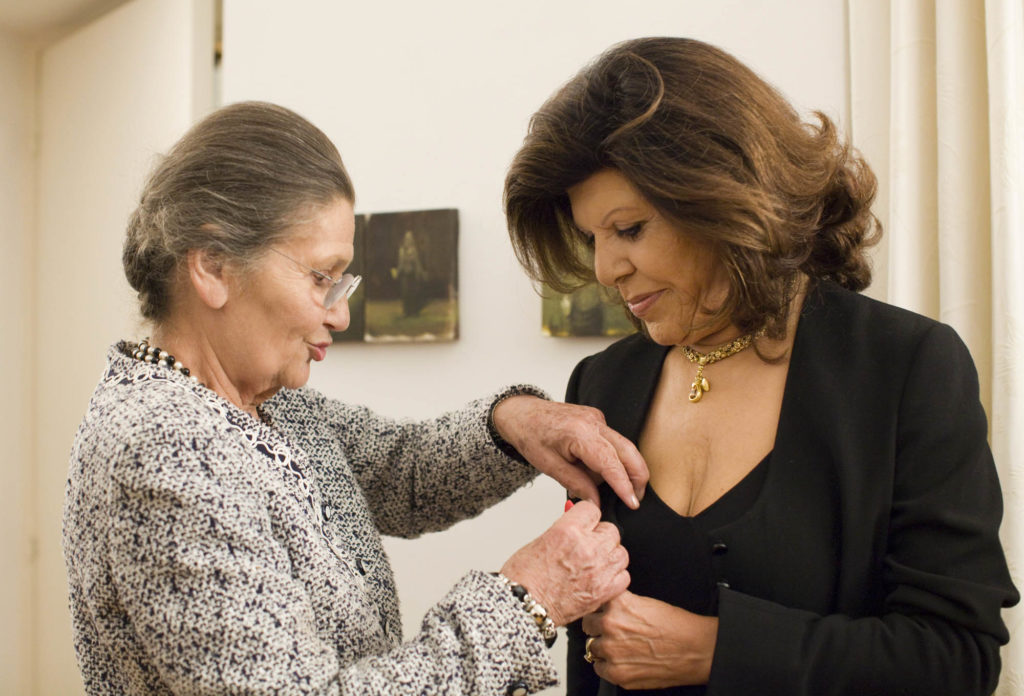 Farideh Cadot is a private art advisor specializing in international contemporary art, with an emphasis on post-1970s to the present. She serves as curatorial advisor to individual collectors and institutional collections which benefit from her privileged connections in the art world: artists, museums, dealers, collectors, private foundations and non profit organizations. Her vast multicultural knowledge of art as well as her experience, integrity and stature in the global art industry are today at the service of like-minded collectors to build significant collections.
Farideh Cadot opened her first gallery in 1976, at rue du Jura, with exhibitions of painting, installations, performance and photography. Since the very beginning of her activity Farideh Cadot is working with women artists, namely Pat Steir, Meret Oppenheim, Eve Sonneman, Connie Beckley, Michelle Stuart, Nancy Bowen and many others we hear about till today.
Since her first years as a gallerist Farideh Cadot is participating in art fairs, starting with Art Basel and other well-known international art fairs like ARCO, FIAC, art Paris, Art Chicago etc.
In 1980 Farideh Cadot is one of the pioneer galleries to move to Marais where she starts to show more European artists. Same year she meets Markus Raetz and Joel Fisher. The first exhibition of Markus Raetz at the gallery located at rue des Archives gave a start to a fruitful collaboration and a friendship that lasted almost 40 years, till the decease of the artist in 2020. Later in the 80s Farideh Cadot also introduces public to the artists like François Boisrond, René Blanchard, Daniel Tremblay, Françoise Vergier, Georges Rousse et Denis Laget. She as well exhibits such Swiss and Austrian artists as Günter Brus, Siegfried Anzinger, Alois Mosbacher, Josef-Felix Mülller, Luciano Castelli et Salomé. 
From 1986 to 1990, in addition to her Parisian gallery space, Farideh opens a gallery in Soho, New York, where she is representing international artists such as Walton Ford, Georges Rousse, Juan Uslé, David Hodges, Joel Fisher, Philippe Favier and others. 

Parallel to her gallery activities Farideh Cadot has been doing projects for different institutions since the 80′s : such as Russian non-official artists for Setayaga Museum in Japan, Daniel Tremblay for la Ferme de Buisson, Georges Rousse, Shirin Neshat, Carlos Garaicoa,  Miguel Angel Rios and Markus Raetz for the Museum of Photography (MEP) in Paris , as well as Markus Raetz for New Museum of Contemporary Art, NY,  San Diego Contemporary Art Museum, for Carré d'art of Nimes in France and the last exhibitioin of the artist at the Bibliotheque Nationale de France in 2012. All projects were accompanied by extensive catalogues including texts by Farideh Cadot.

Known for possessing a keen eye for works that are visually and intellectually innovative regardless of style, media or trend, Farideh Cadot has long enjoyed a reputation as a serious gallerist with an understanding of the traditional and an inclination for the cutting edge.

Farideh Cadot left her known public space situated at 77 rue des Archives in 2002 and moved to new space at 58 rue Charlot. In 2007 she opened another public exhibition space at 7 rue Notre Dame de Nazareth, which she finally closed in June 2017, keeping her private office and showroom by appointment at 110 rue Vieille du Temple.

Farideh Cadot was decorated by the French Government in 2009 with the prestigious « Chevalier de la Légion d'Honneur » in recognition of her visionary commitments to arts and culture.