Farideh Cadot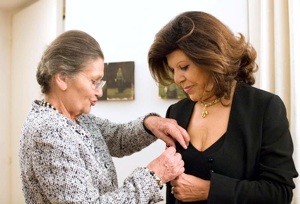 Farideh Cadot is a gallerist and private art advisor specializing in international contemporary art, with an emphasis on post-1970s to the present. Her reputation and notoriety is built on a demonstrated track record of discovering young talents from around the world, particularly American and European artists.
Parallel to her gallery activities Farideh Cadot has been doing projects for different institutions since the 80′s : such as Russian non-official artists for Setayaga Museum in Japan, Georges Rousse, Shirin Neshat, Carlos Garaicoa, Markus Raetz and most recently Miguel Angel Rios for the Museum of Photography (MEP) in Paris , and Daniel Tremblay for the Musée des Beaux Arts de Angers. All projects were accompanied by extensive catalogues including texts by Farideh Cadot.
Known for possessing a keen eye for works that are visually and intellectually innovative regardless of style, media or trend, Farideh Cadot has long enjoyed a reputation as a serious gallerist with an understanding of the traditional and an inclination for the cutting edge.
After celebrating her 40th Anniversary as the owner of a prestigious gallery in Paris's Marais district, ten years of which she also had a second gallery in New York's Soho district, Farideh Cadot serves as curatorial advisor to individual collectors and institutional collections which benefit from her privileged connections in the art world: artists, museums, dealers, collectors, private foundations and non profit o

rganizations. Her vast multicultural knowledge of art as well as her experience, integrity and stature in the global art industry are today at the service of like-minded collectors to build significant collections.

Farideh Cadot left her known public space situated at 77 rue des Archives in 2002 and moved to new space at 58 rue Charlot. In 2007 she opened another public exhibition space at 7 rue Notre Dame de Nazareth, which she finally closed in June 2017, keeping her private office and showroom by appointment at 110 rue Vieille du Temple.

Farideh Cadot was decorated by the French Government in 2009 with the prestigious « Chevalier de la Légion d'Honneur » in recognition of her visionary commitments to arts and culture.